Hospitality uniform design is often based on the theme of the hotel. However, it might be worth considering a logo uniform for hotel staff as well. Logo uniforms are becoming more popular for hospitality employees because consumers recognize them more and feel more connected with them. This can have a great impact on customer loyalty and retention. In fact, hospitality logo uniforms can even lead to a higher level of service. It's time to start thinking about your logo uniform needs if you haven't already.
Logo Uniforms Demonstrate Competence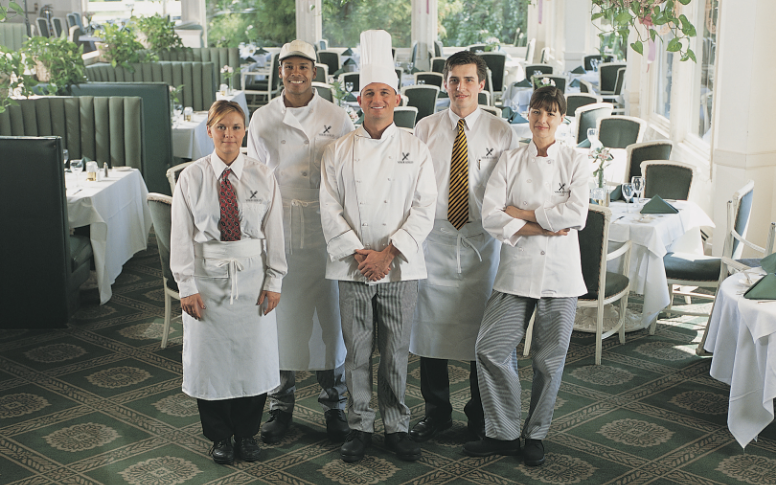 Before you welcome your first guests to your establishment, it is important that they are made feel welcomed and at ease. Having a professional staff always makes for a good first impression because the customer assumes that the person wearing the uniform has been trained properly in order to provide them with high-quality service. Having uniforms embroidered with their name conveys professionalism and attention to detail. Which may lead customers walking into your hotel to think about booking again later on down the line.
Logo uniforms come in many different styles.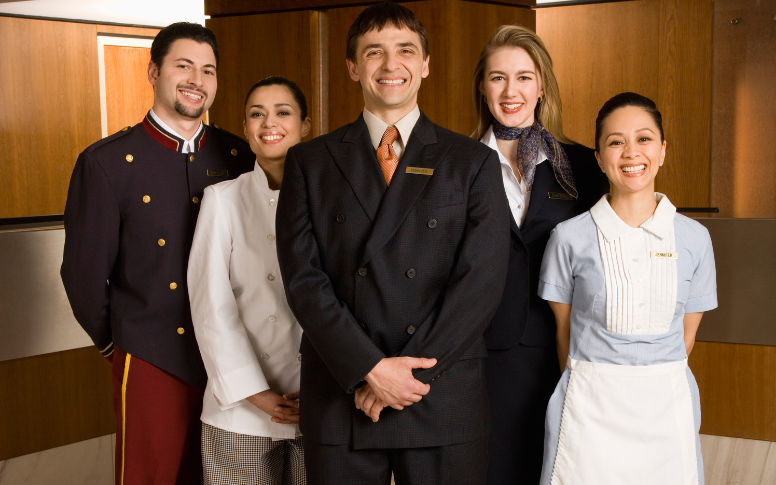 There are a variety of professional uniforms available for your team in order to make you more successful. Some of these include custom business wear, housekeeping staff uniforms, kitchen employee apparel, and other items necessary to run your company well!
Some of the uniforms you may want to consider for your team are:
Aprons: Aprons are great for the kitchen staff, with durable fabrics and adjustable straps. For maximum functionality, choose an apron with roomy pockets. So that you can properly carry all your tools!
Polo shirts: Your entire staff can wear polo shirts with their company logo embroidered on them. Polo shirts are available in various fabrics and styles. As well as a variety of colors to choose from. The lightweight breathable fabric is perfect for those hot summer days when you need something that's less heavy duty than standard garments but still offers performance benefits like not staining or smelling mildewy – this makes it ideal for executives who want comfort without sacrificing style or productivity!
Sweaters: When layering a sweater over another article of clothing, it adds warmth and sophistication. Lots of different styles are available for you to customize with your business logo.
Pants: Men and women in the hospitality industry should wear plain-front chinos. They come in all neutral colors that go with any top, are made from high-quality materials, and have great comfort to ensure maximum performance.
Button-up shirts: Custom company work shirts are great for your front-line employees or office workers – but they're also a good choice for kitchen staff! You can even wear button-ups if you opt for a lightweight material like this one.
Jackets: It's important to provide your staff with company work jackets. It starts by giving them a logo of the business that they can proudly sport on their outerwear, which could be in warmer weather or during wintertime when employees might have to go outside for some tasks.
Logo uniforms come in a variety of colors.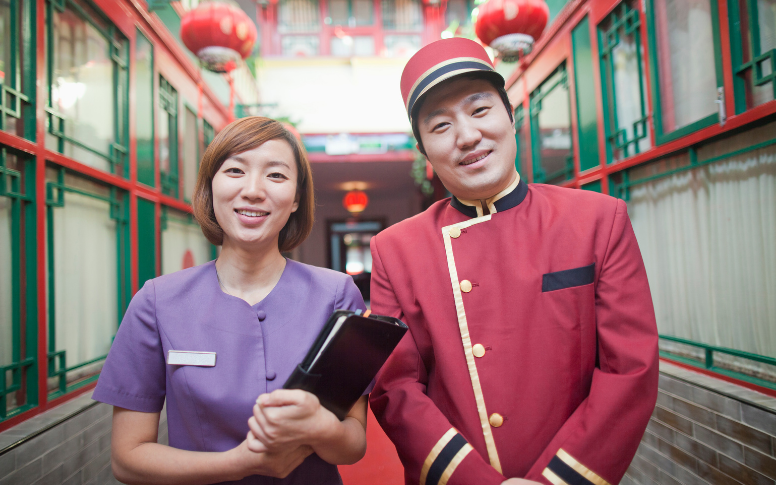 Another reason to love logo uniforms is that you have a wide range of colors from which to choose. The classic black and white are always great, but it's easy enough to match your employee shirts with the color palettes at your establishment. To ensure that your company logo stands out, make sure they contrast against the shirt so it looks eye-catching!
Make a great impression.
Promotional products are a great way to do good business. You can have your own logo printed on pens, water bottles, and more that you give out to clients when they visit your place of business or order from you online. These promotional gifts will help foster positive relationships between vendors and service providers as well as current customers. Holiday gift ideas include coffee mugs, custom "thank-you" notepads, branded wallets, or personalized planners with photos inside the covers commemorating special moments in time together!
Reach out to Uniformtailor and find the logo uniform options that best fit your staff.