Get everything you need to outfit your staff when it comes to custom designed work wear online with just a few simple steps. It is now very comfortable to add your logo and create custom work t-shirts, jackets and other work wear for your employees. You can choose the latest prints, fabric materials, embroidery and create beautiful branded uniforms for everyone in the organization with the help of latest laser technologies.
Corporate uniforms are considered as brand identity and a great tool for marketing and promotion. Small businesses look upon professionally printed logo for brand promotion as it is not only an economic marketing strategy but also binds people associated with the brand emotionally.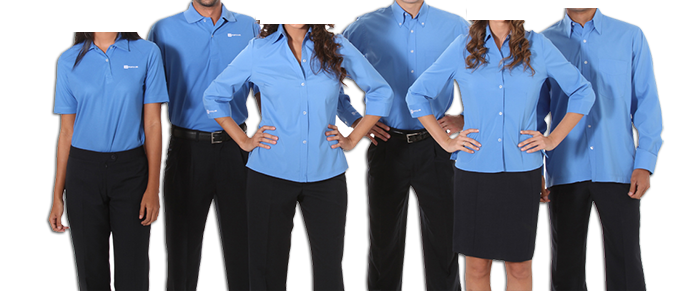 Custom printed uniforms offer exceptional customer service in very innovative styles and methods that are unmatched in comfort and durability. Small scale businesses can develop unparalleled standards in the art of designing elegant and cost-effective uniforms which gives them an upper edge over big organizations.
Small business can just be e commerce-oriented and sell uniform online without any hassle. All you need is a good user interface of your website, preset design templates and hassle-free navigation through the site to make the process of placing order simpler and easier.
Small scale business is very careful about their clientele and usually emphasis on extra care and innovation. They have options of customization, choice of fabric and addition of brand logo and detailing to add the personal touch of emotions to the design. Also, they offer group discounts, fast turnaround time and expert sales support for overall excellent customer experience.

Uniforms make the staff walking billboards of the brand and helps to attract potential customers. The corporate uniform makes the coworkers stand out in the crowd and adds a tint of a very unique and distinct personality. The best part about office uniforms is you don't really have to think so much about what to wear the next day to the office. Employees feel a sense of unity and add a positive impact on people's behavior as their every act is reflective of brand ethos, values, and culture.