When you're working in a kitchen, you have to have clean clothes that hide any dirt and grease. But, you also have to look fashionable. With that in mind, here are some tips on how to wear chef uniforms with logos. Chef uniforms are the standard clothing worn by most kitchen staff. They come in a variety of styles and colors. So it can be hard to know where to start when it comes to finding the right uniform. However, if you know the right place to shop, you can find uniforms that are not only stylish but also versatile and comfortable. These tips will show you how to wear a chef uniform with a logo.
Look Professional
First, let's tackle the obvious. You will never look professional if you wear your chef uniform in the parking lot, so make sure to keep it out of sight when you're not in the kitchen. The same goes for the chef jacket. Keep this out of sight, and make sure it looks clean and neat so that it doesn't distract other staff members.
But, beyond this, there are other ways you can make your chef uniform look professional while staying casual. For example, instead of wearing a white or light-colored shirt, choose a darker one. This will make it easier for you to hide spills and other stains, without drawing too much attention to yourself. Similarly, dark pants are also a great choice because they hide stains better than lighter-colored ones.
Chef Attire
When you are looking for chef uniforms, you need to keep in mind a few components that make up the chef's attire. While there are dozens of options to choose from, here are the most important ones.
Shirt: When it comes to chef shirts, you want to look for cotton or synthetics that are easy to clean. Cotton has been around longer, so it tends to grow mildew if it isn't cared for properly. Other than this, they both have their pros and cons.
Coat: Your chef coat is one of the most important pieces of clothing in your attire. It is not only a sign of respect to your guests, but it also gives you the authority to wear a badge.
Hat: Chef hats are comfortable to wear, so you can spend hours in the kitchen without feeling any discomfort. When choosing a chef hat, make sure it has a snug fit. A loose-fitting hat won't stay in place if you happen to bump into something, which can be dangerous in a kitchen setting.
Trouser: Chefs' trousers are often made with a stain-resistant fabric and a comfortable elastic waist to stay put during long shifts in the kitchen.
Wear With Pride
Once you have your attire together, it's time to find the right place for your logo. The logo should be ironed or sewn on the right side of your chef uniform. If it is sewn, the logo should be placed on the left side. However, if you are stepping into a new restaurant, it may be best to have the logo ironed on the right side so the staff knows whom they are serving.
Wrap It Up
This is a small tip, but a very important one. When you are done with your meal service, fold your apron neatly and place it on the back of your chair. This is a simple practice that helps keep your uniform looking neat and clean.
Another way you can wear your custom-made aprons is by wearing them while serving your guests. This practice shows that you are approachable and personable, and it also lets your guests know that they are receiving great service.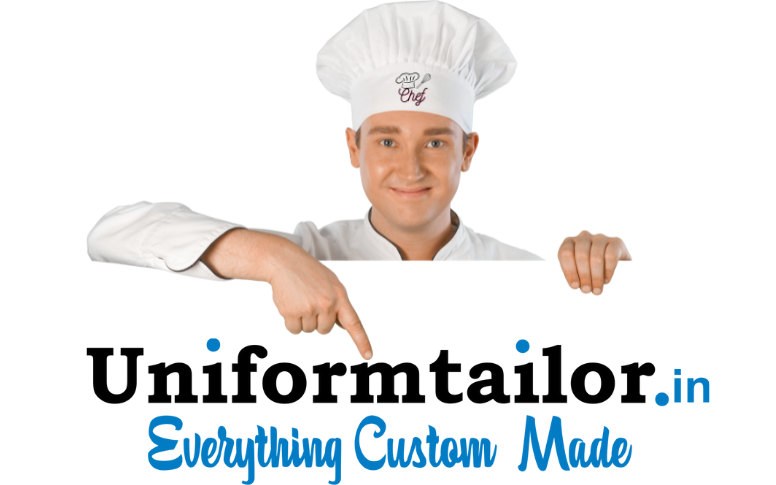 No matter which type of chef uniform you need, you can find it at Uniform Tailor. We offer a variety of chef uniforms for all types of kitchens and restaurants, including corporate, casual, and fine dining. Our chef uniforms are made from high-quality fabrics to withstand long hours in the kitchen. They are comfortable and practical, with a design that makes them easy to clean. At Uniform Tailor, we offer different styles of chef uniforms to suit your needs. We also offer different sizes and lengths to accommodate every body type.