Top 15 benefit staff uniforms for companies
There are many advantages of wearing uniforms at work. Top 15 Benefit staff Uniforms for a company are discussed below: How to Choose Uniforms for Employees,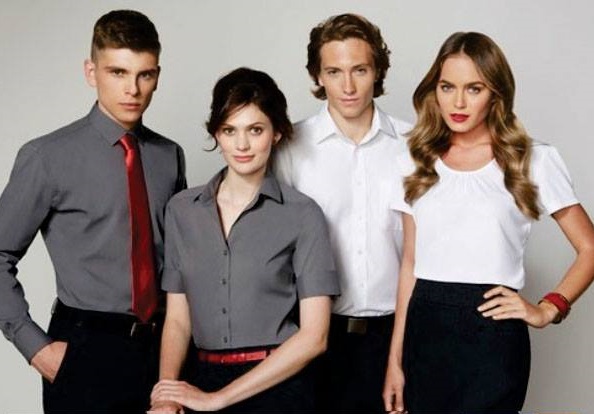 1. Advertising for the company:
They act as an effective marketing tool and give a good first impression to the customers. It can help you to promote your business more efficiently and competently.
2. Identity:
The uniform helps the workers bring a sense of identity within the company and the organization. It also achieves for them a sense of belonging.
3. Professional image:
Uniforms usually give their employees a professional and an executive look. This pleases a customer when he first sees the employee.
4. First impression:
Uniforms are an effective way to provide a good first impression to the customer of the company. If the employee is dressed smartly and is dressed to impress.
5. Uniform as perks:
It saves the personnel so much time and gives him more opportunities to think rather than waste half of the morning thinking what to wear for office and trying to match the colors of his/her work clothes.
6. Equality:
One of the fact about uniforms is that as the name suggests, uniform in the literal sense means to be the same throughout. That is the basic function of a uniform.
7. Productivity:
An organization would lead to more productivity because the employees will develop a professional mindset and starts to be engrossed in work.
8. Protection:
Usually, this applies to jobs that need protection for both the employee and the user. Such uniforms are carefully designed and are validated and checked by the health and safety department of that area.
9. Mutual growth:
People wearing uniforms tend to care more about their peers and colleagues and try to ensure mutual growth from both the sides.
10. Industry demands:
There are certain organizations that are focused on the customers such as hospitals, electronics showrooms, automobile showrooms etc.
11. Dress issues:
In certain organizations, if they don't specify the type of material to wear for work. It might end up with the employees pushing the limits and wearing inappropriate clothing for work.
12. Branding:
Branding the company from the uniforms is really a good idea. This is what makes the company more successful and well-known.
13. Taking time:
One of the main advantages of uniforms is that it does not take a lot of time changing into and out of your uniforms.
14. Religious sentiments:
Uniforms cannot please the religious sentiments of all individuals. Religious sentiments reflect the upbringing and values that the individual believes in his/her religion.
15. Self-esteem:
Uniforms can make employees be aware of their surroundings and aware of the society. This creates a feeling of being watched by the people all the time.
Top 15 Benefit staff Uniforms explain about all about business promotion.
UniformTailor is a disclosure stage for making exclusively fitted apparel and fitting administrations for its clients whenever anyplace. We help our clients to customize their fitting needs online by helping them with style components and article of clothing fitting. We give home support of taking estimations and convey your customized piece of clothing to your doorstep within 10 days. We likewise give adjustment administration to revise your current articles of clothing at your entryway step.
As of now, we are serving the clients all over India. We have unique offers for Defense faculty, Advocates, Corporates, Colleges and Universities, Social Clubs and Group Housing social orders.
contact us for more about uniform or any query related to your business uniform.
Phone: 01145718950
Email: info@uniformtailor.in
Website: https://uniformtailor.in